This page describes the period during which the property was in the hands of the Freneau's from 1752 to 1843 and incudes the building of my house in 1818.

Philip lived at Mount Pleasant Hall off and on during his many exploits in literature, at sea, and in publishing. James Madison, Philip's good friend from Princeton would visit often and hit on Philip's sister Mary; fortunately for Dolly (or James) he was not succesful.

Freneau, of course is famous as the "Poet of the Revolution". After being taken prisoner by the British he used his skills to inspire and strengthen the cause. His poems and songs were sung by the soldiers at Valley Forge.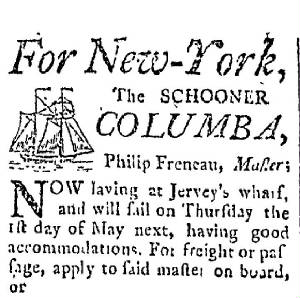 Freneau was also a seaman and during the 1780's and 90's he was referred to as Captain Philip Freneau.
To the right is an advertisement from 1788 for one of his ships.
Freneau vs Hamilton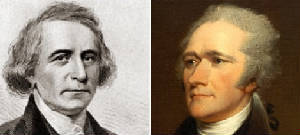 As stated in the History of the Democratic party from Wikipedia "The Democratic Party evolved from political factions that opposed Alexander Hamilton's fiscal policies in the early 1790s; these factions are known variously as the Anti-Administration "Party" and the Anti-Federalists. In the mid-1790s, Thomas Jefferson and James Madison organized these factions into the Democratic-Republican Party."
http://en.wikipedia.org/wiki/History_of_the_United_States_Democratic_Party
On a fateful trip to New York in 1791 Thomas Jefferson and Madison prevailed upon Philip to edit and publish a paper, the National Gazett, in Philidelphia to serve as a mouth piece for Jefferson's "Anti-Administration" views to counter Alexander Hamilton and Wahington.
I've been able to collect a large number of the editions of Freneau's paper.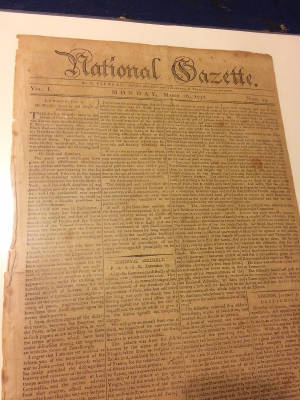 It became the most important paper in the country. The Library of Congress says: "Though it only lasted for 208 issues over two years, Philadelphia's [Freneau's] National Gazette is still considered one of the most influential newspapers in the early years of the United States."" And Jefferson stated that Freneau's "paper has saved our constitution which was galloping fast into monarchy, & has been checked by no one means so powerfully as by that paper".
Hamilton for his part was furious that Freneau was being funded for his attacks by the treasury and said so via Fenno's paper. Below is Benjamin's Russel's paper from August of 1792 that also carried Hamilton's (under the pen name of "An American) excoriation of Freneau.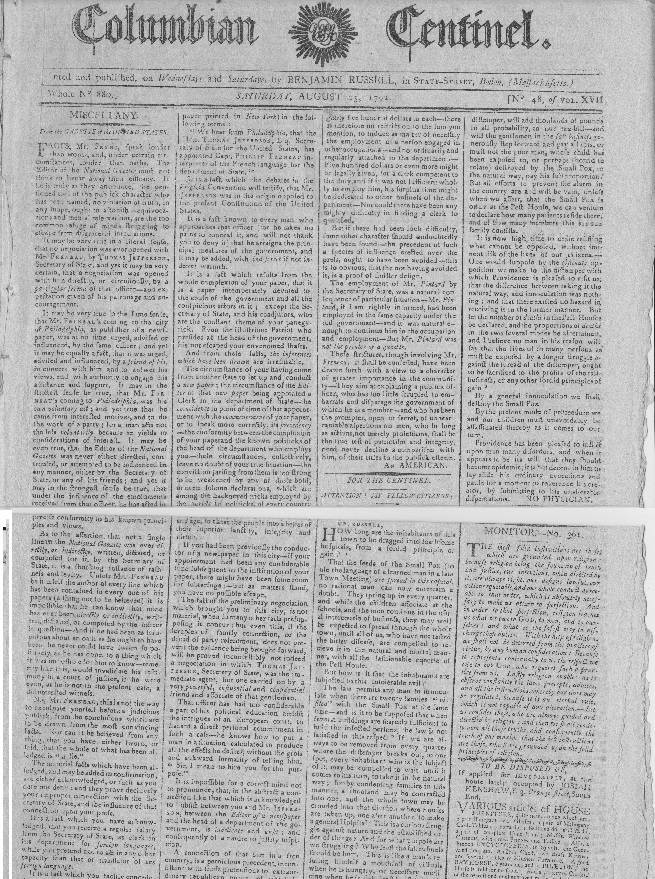 The fight escalated therough the summer of 1792. In 1793 yellow fever broke out in Philladelphia and it, and other factors led to Freneau ending his paper.
Below is Freneau's last entry in what would be the last issue. While he thought he would return with Congress, what he actually ended up doing with his "new and elegant printing types from Europe" was set up a print shop somewhere on Poet Drive where he printed the first newspaper in Monmouth county, an Almanac, a collection of his Poems, and any contract print jobs he could find.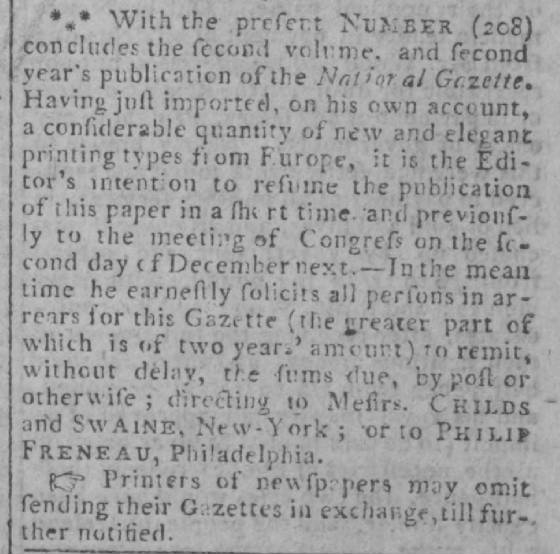 Finnaly, in 1812 Arron Burr's daughter, Theodisia, died in transit from Charlotte. Below is a portion of an article citing Freneau's great-grandson telling of Freneau going to console Burr. He wroke a poem for Burr, that was later published in his 1815 volume of Poem's.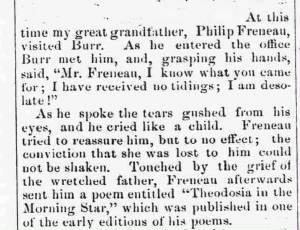 Freneau's Printshop
In 1793 after his most politically significant work in Philadelphia, he moved back to Matawan and set up his own printshop someplace on the grounds around the house. Here he published the first newspaper in Monmouth County as well as an Almanac and collection of poems. To the right is a 1795 advertisement for his print services.
Page from Freneau's 1795 book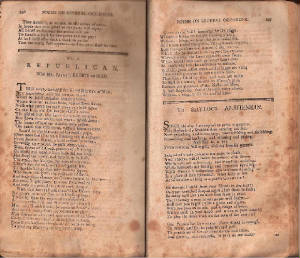 I was fortunate to obtain a copy of the collection of poem's that Freneau printed at his home printshop (my kitchen if you believe Clarence Ware) in 1795.
This is a page with a poem on Paine's Rights of Man.
He also printed an Almanac, and the first paper in Monmouth, the "Jersey Chronicle". However none of these were successful and in 1797 he moved his type to New York and began co-editing a new paper, the "Timepiece".
Another famous publication was his two volume set of poems printed in Philly in 1809. It is noteworthy because of the subscription list which includeded his best friend (now President) James Madison, and Thomas Jefferson.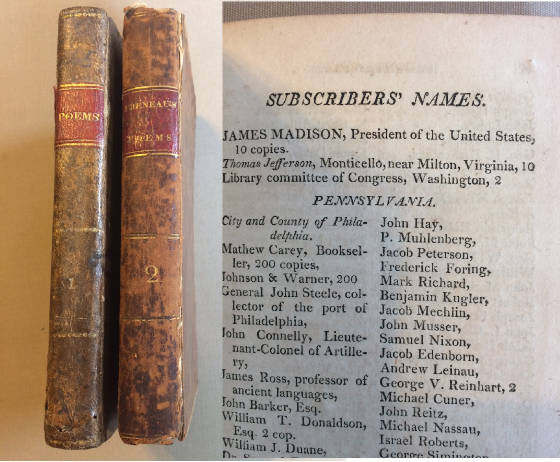 In Freneau's letter to Madison in 1815 (below) he tells him he is sending replacement copies for the ones that were lost in the "conflagration at Washington" (when the British burned the White House) the year before.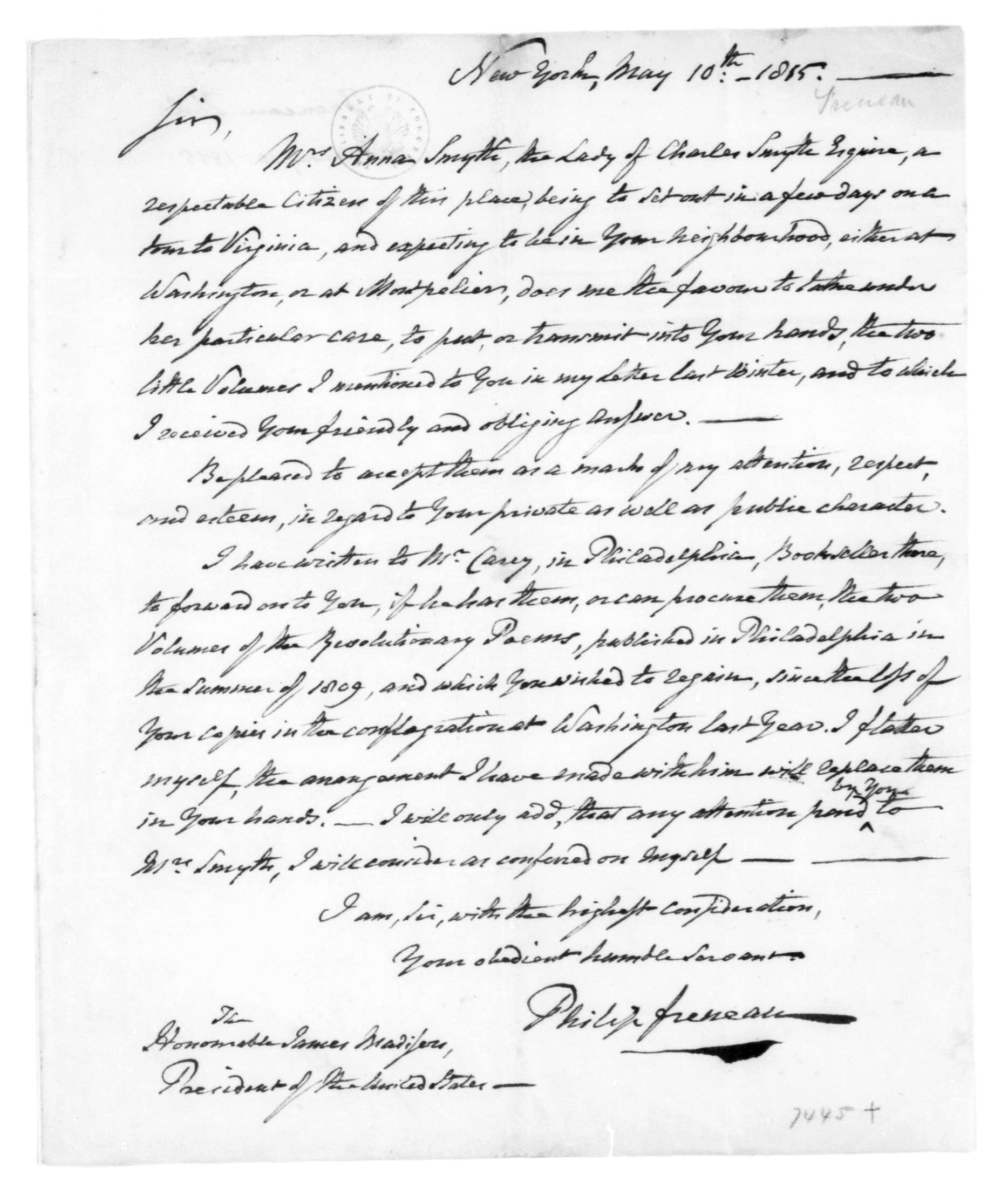 Also significant (for my house) is the inclusion in the subscribers of his neighbor John Van-Pelt.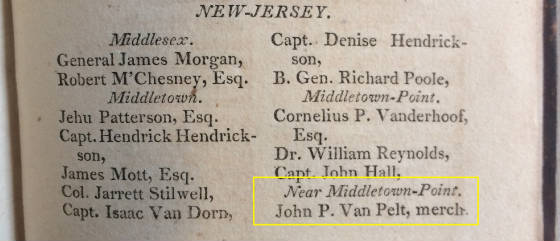 The Van Pelt house is still there just down a couple of houses on rt 79 at 189. It is even older than mine and a cute old house that my daughter used to babysit at.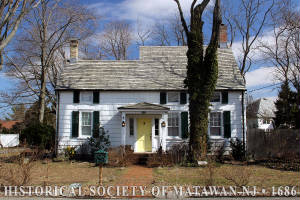 The Fire (and birth of my house)

On October 18th, 1818 a fire destroyed the original Mount Pleasant Hall. The event is recorded in the family Bible. The Bible is a 1588 Geneva Bible and is in the Princeton University Library. Below is an image of the entry. Philip inserted a special extra half page in the front of the Bible to record the event.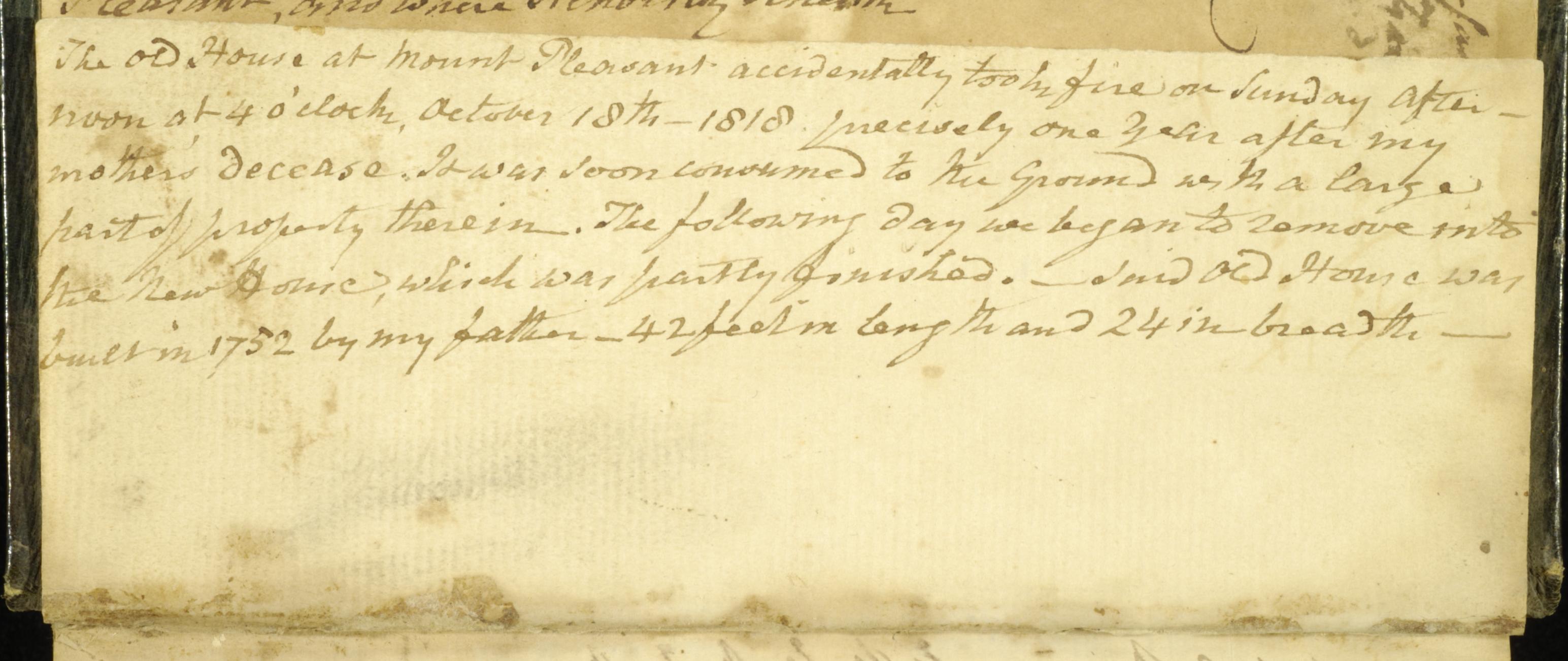 Rare Books Division.

Department of Rare Books and Special Collection. Princeton University Library
In Philips own hand it states:
"The old house at Mount Pleasnt accidentally took fire on Sunday afternoon at 4 o'clock, October 18th - 1818 precisely one year after my mother's decease. It was consumed to the ground with a large part of property therein. The following day we began to remove into the New House, which was partial finished. The Old House was built in 1752 by my father - 42 feet in length and 24 in breadth."

Also, in a letter to Mathew Carey dated just a week later, Oct. 26, 1818, Philip writes: "About a week ago I was burnt out and lost considerable of property, but fortunately no lives. I have however a new house partialy finished, into which I have moved".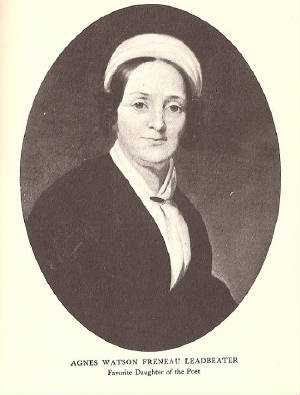 Agnes Watson Freneau Leadbeater; from Mary Austin's book
The "New house" is the one I own that this site is dedicated to. It was positively identified by Freneau's great-granddaughter Eleanor, who visited the house with her father (Freneau's grandson Edward Leadbeater) who grew up in it. In her correspondence with Fred Lewis Pattee (contained in the Princeton Library Fred Lewis Pattee Collection on the Poems of Philip Freneau) for his work on Freneau she states "My father Edward Henry Leadbeater- was his grandfathers companion and especially fond of him."
About my home she wrote:
"the later home, near the poets grave is still there "Mount Pleasant" now called Freneau- I have been to the place when I was a young girl......The last owners of the Mount Pleasant property I have heard are named Ryer"
Freneau lived in my house until 1824 when he moved to East Freehold, where his wife had inherited part of her bother Denise Forman's farm. This is well documented in "Freneau's Last Home; Philip Marsh, and Milton Ellis, Houlton, and Maine; Proceedings New Jersey Historical Society; Vol. 57, No. 2; April, 1939 (since the article was written during the Clarence Ware years, Marsh repeats the legend about the "print-shop").
My house was most probably being built for his daughter Agnes (the third), who had just married Edward Leadbeater of New York less than two years earlier. The Leadbeaters moved in after Philip moved to East Freehold and stayed there until the death of Edward 1832 shortly before Philip himself died.


During the time Freneau lived at my house, multiple grandchildren were born there. Below is the obituary of his grandaughter Agnes from 1914 that indicates she was born in my house in 1820.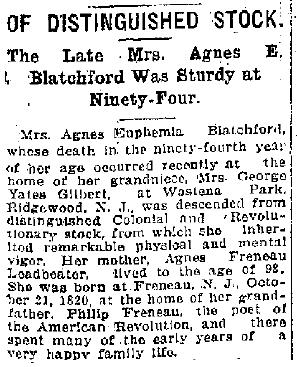 Additional births and info on Freneau' during the period are deduced by records from Freneau's eldest daughter, Helen who married John Hammel in 1816, and correlating entries about Helen's children in the family bible (first pointed out by Leary):
John Hamell's reciept book indicate that they began renting a house in New York in 1819, just after the fire. So Helen and here husband may have lived with her parents at the large Mount Pleasant Hall after they got married. But after the fire, when Philip had to move into the "New" but smaller and partially finished house, Helen and her husband had to find their own loggings in New York.
In 1822, however, the reciepts for the Hammel's New York house stop, with Helen apparently moving back with her parents in my home. In the family bible we find Helen's first daughter, Eleanor, being born at my home in 1823.
After Philip moved to East Freehold in 1824 his daughter Agnes and her Husband finally moved into the home they had built, my house.
Helen apparently moved with her parents as the entry for her second daughter, Sarah, records her as being born in 1826 at the "Freneau farm near Freehold".
Again in the family bible we find that Helen's third daughter was born back at my house in Mount Pleasant when Agnes was living here in 1830. Perhaps Agnes was better able to help Helen than her aged parents.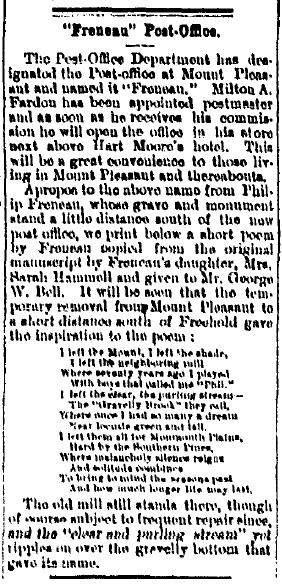 Freneau's daughter Helen also provided the most poinient record of Freneau's life at Mount Pleasant.
To the right is an article from the Journal in June of 1889 during the discussions to change the name of Mount Pleasant to Freneau.
Among other things in Helen's possession were apparently some of Freneau's unpublished writings.
The article includes a poem, that Mary's daughter Sarah copied and passed on to George W. Bell, Matawan druggist and one time owner of the local paper.
The Poem captures Freneau's feelings about leaving Mount Pleasant and my home in 1824 when he moved to east freehold.
In 1936 the Matawan Journal did a large full page article on Freneau. Below is a better copy of the poem that the Journal reprinted at that time.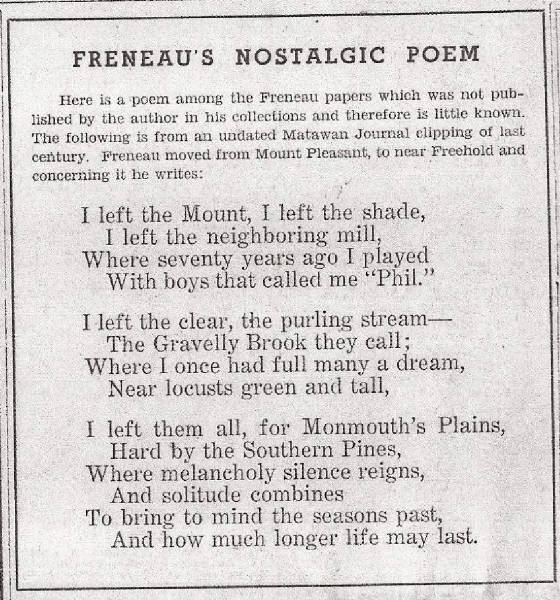 Similarly, I found a semi-lost manuscripts file at the Special Collections and University Archives, Rutger's University Library. In it was Freneau's daughter Catherine's recipe book. Catherine was unmarried and lived with her parents. In the book (below) is a notation of the date May 8th, 1824, the year (and possible the day) that Freneau left Mount Pleasant for east Freehold. On the page, and the page following, she has pasted 4 melancholy poems which seem to fit the occasion, including one called "The Tomb of my Fathers" with the line "I hied to the home of my fathers again, but the home of my fathers was no longer mine".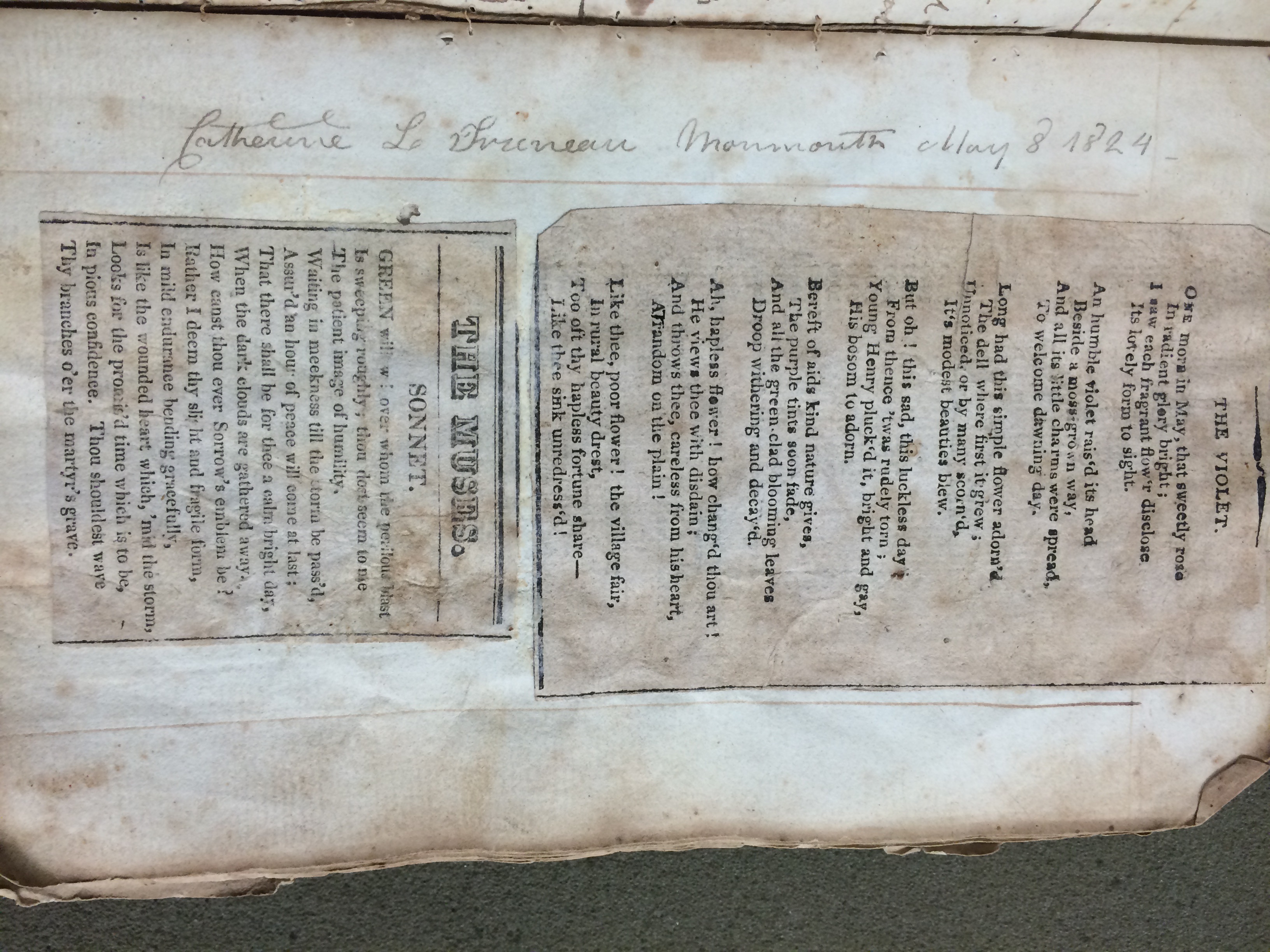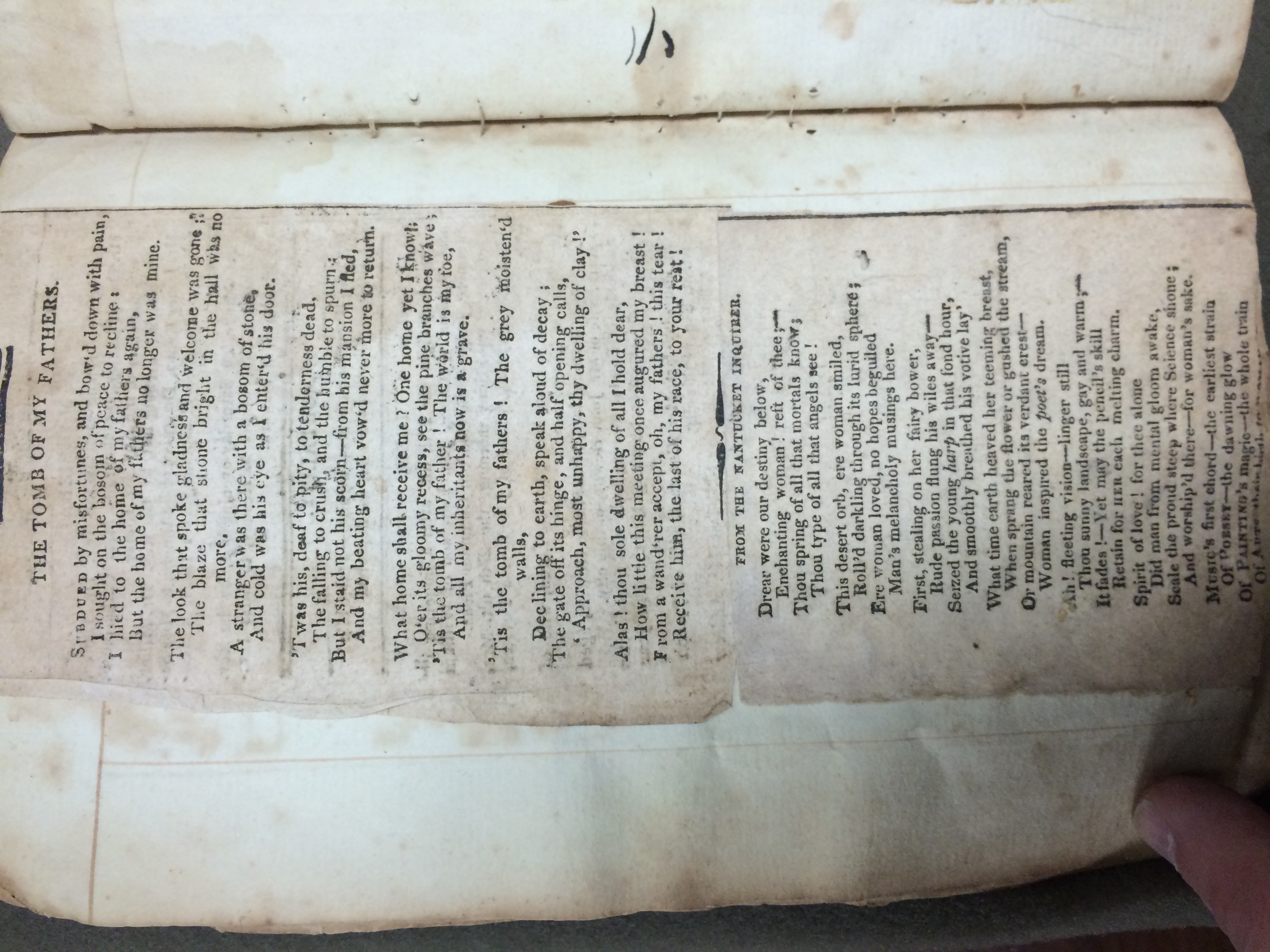 Below is the house Freneau moved to in East Freehold in 1824

"The Forman Geneology"; Miss Anne Spotswood Dandridge; 1903; states how Denise Forman and Philip Freneau both fought at the battle of Germantown. It also states how Denise was a fellow prisoner with Freneau on the British prison ship in New York harbour and that they were "perfect skeletons" when they were finally released.that was his brother-in-law Denise's.
Freneau lived here until he died in 1832.
This is what became the "Poets's Corner" development on Kozloski road.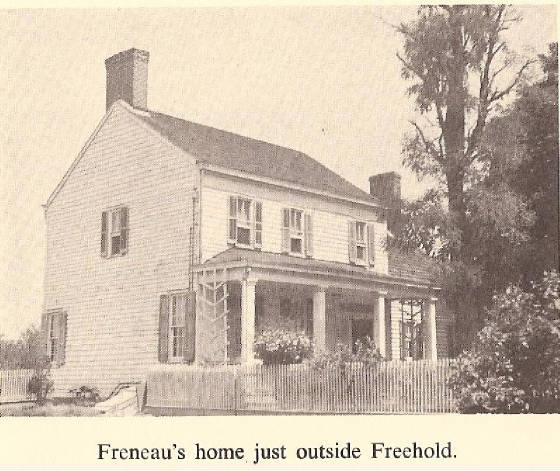 The freehold house burned down in 1981, making my house Freneau's last remaining house.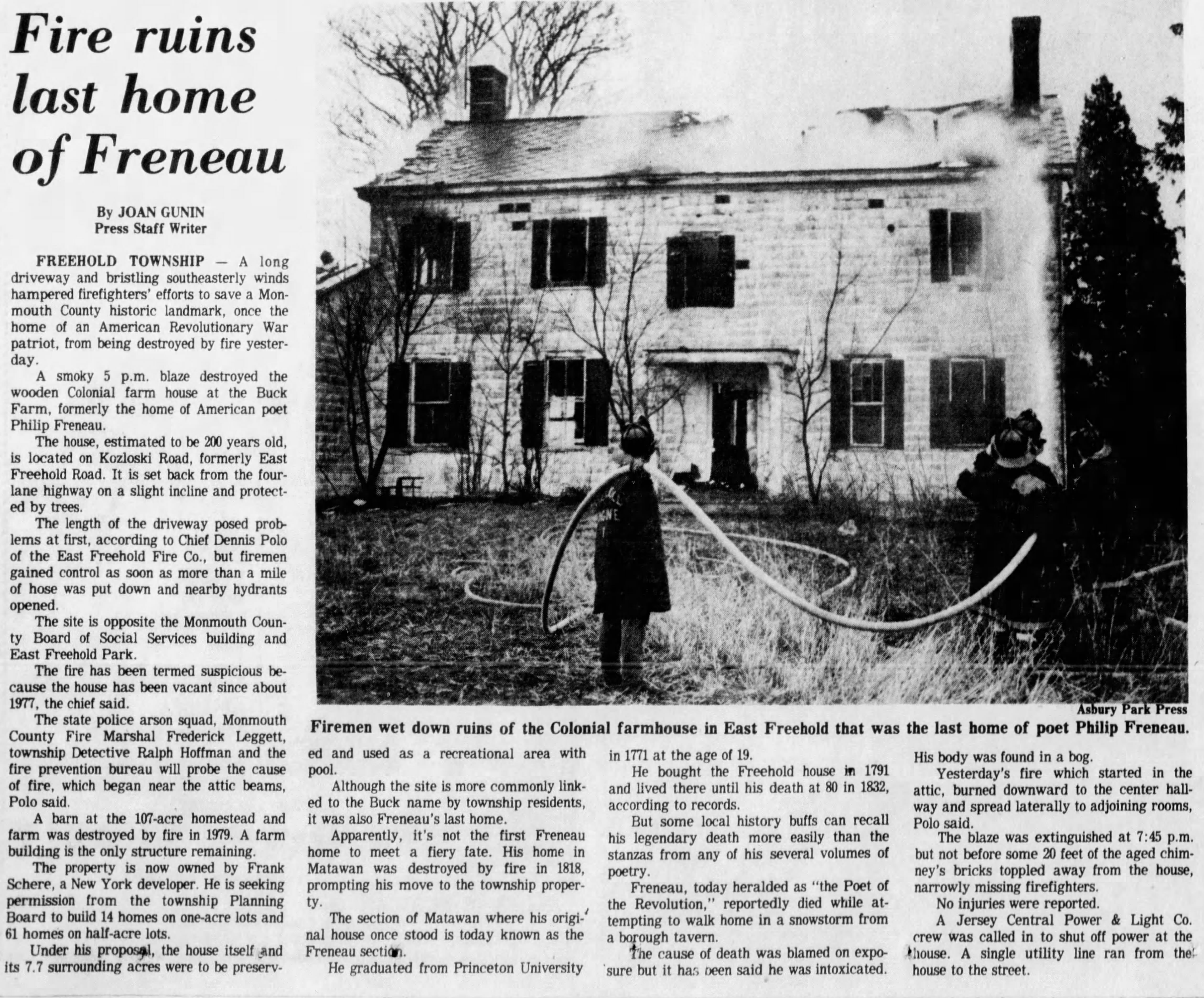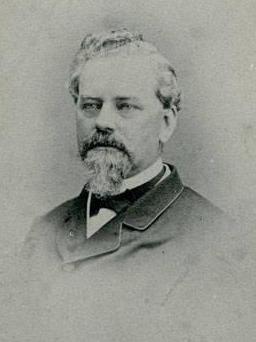 Agnes and her family lived in my house until the death of her husband in 1832.

To the right is one of her children, Philip Freneau Leadbeater. Later in life he changed his name to Philip Leadbeater Freneau. He was born in 1822 and died in 1880 at his sister, Marianne Harris', where his mother also lived her final years.


Edward Leadbeater died on March 28th, 1832. Edward was buried on the Freneau family burial grounds "Locust Grove", where Philip's Aunt Allaire was the first to be buried in 1789, and Philip's mother was buried in 1817.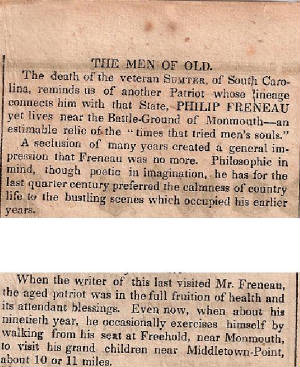 To the left is an article from "Poulson's American Daily Advertiser" from June 23rd, 1832, after the death of Edward Leadbeater. It is probably the last article on Freneau when he was alive.

The writer states that Freneau would still, at 80 years of age walk the 10 miles from what is now Kozloski road back to Matawan to visit his grandchildren.
One of those grandchildren was Edward Henry Leadbeater, Agnes' second son. Edward's daughter Eleanor, visited the house with her father who grew up in it, and positively identifies the it in her correspondence with Fred Lewis Pattee for his work on Freneau. In here letter she states "My father Edward Henry Leadbeater- was his grandfathers companion and especially fond of him."
About my home she wrote:
"the later home, near the poets grave is still there "Mount Pleasant" now called Freneau- I have been to the place when I was a young girl......The last owners of the Mount Pleasant property I have heard are named Ryer"
In December of 1832 Philip Freneau died and was buried next to his mother in the Locust Grove. Below is the record from the Coroner's office, and the bill from William Lloyd- Justice of the Peace for viewing the body.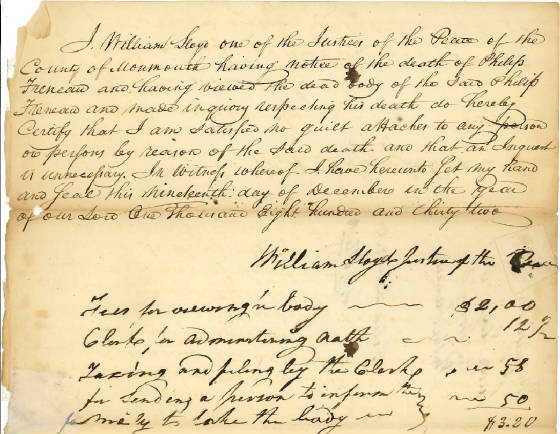 Shown below, Locust Grove is now a little cemetary with a single monument to Philip and his mother, across the steet from my house maintained by the township.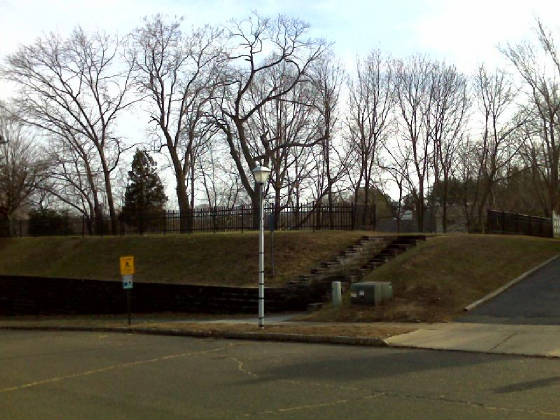 My best guess on the origin of Philip Freneau's monument on Poet Drive:
The earliest reference we have for the monument is from Evert Duyckinck's biography in the 1865 edition of Freneau's Poems. In it he says "A monument to the poet's memory, within a few years, has been erected on the spot".
In long biography of Freneau in "Cyclopedia of American Literature" that was done earlier in 1856 by Evert and George Duyckinck, they do NOT mention anything about a monument despite including:
"The house which Freneau occupied at the time of his death is still standing. It is about a mile from Freehold. The house in which he lived before he came to freehold, and the old tavern in which he and his club of friends met, are also in existence at Middletown Point."
So that would put the creation of the monument between 1856 and the early part of the 1860's.
Additionaly, Freneau had two grandsons who grew up in the house on Poet drive; Philip Leadbeater Freneau (named after his Grandfather), and Edward Henry Leadbeater. Both became prosperous businessmen. Edward Henry Leadbeater had a daughter Eleanor. Eleanor says she visited the house "when she was a young girl", presumably with her father. This visit would also roughly be around 1860.
Therefore, my guess is that either one or both of Freneau's Grandsons erected the monument around 1860 as a memorial to their Grandfather. It does raise the question, however, of why they didn't also erect one to their father who is also buried there- or if they did, what happened to it.
The monument was re-engraved in 1975.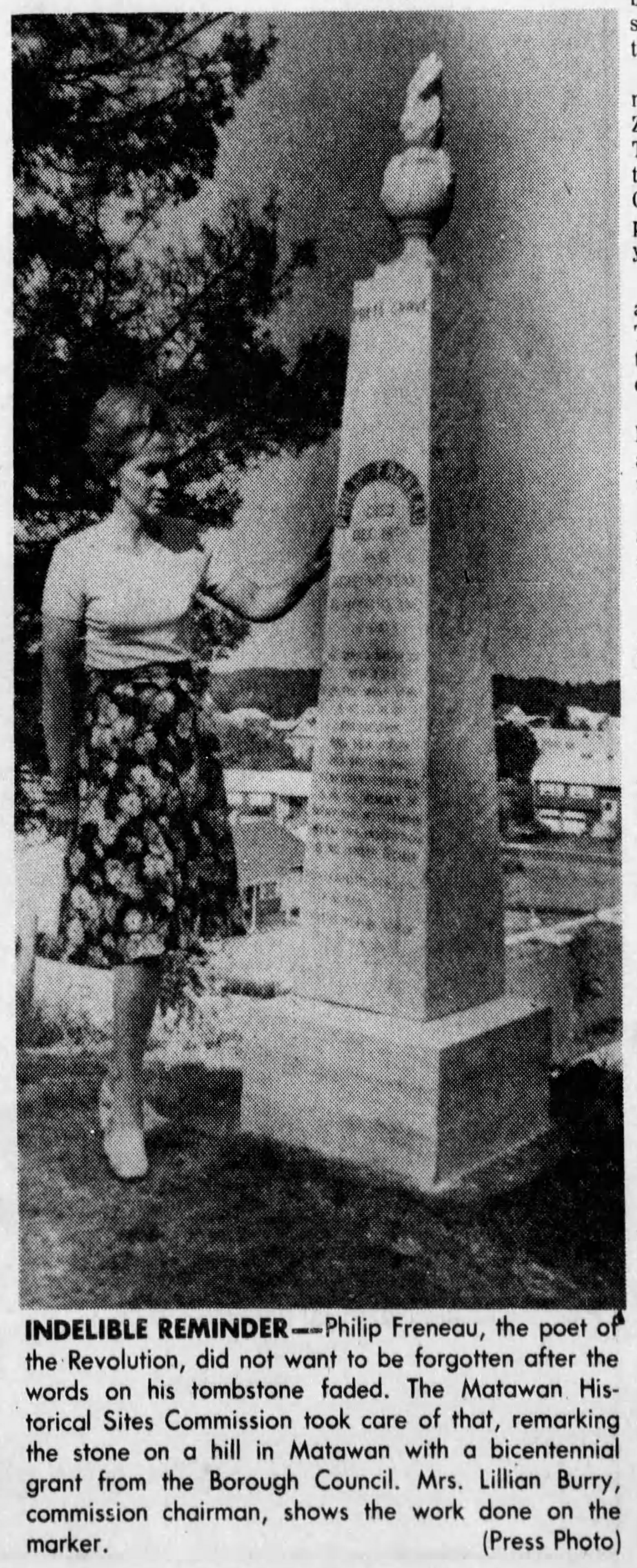 And just in 2017, Stephen Ciupinski did an outstanding restoration of the grave as part of an Eagle Scout project.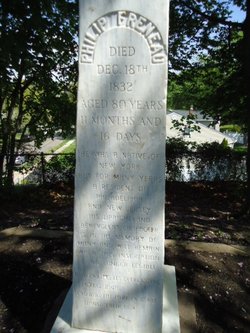 1 Secondary sources are Philip M. Marsh who wrote multiple books and articles on Freneau including "Philip Freneau Poet and Journalist" and a number of articles for the proceedings of the New Jersey Historical Society including "Freneau's Last Home" in the April, 1939 volume; Lewis Leary who multiple books including"That Rascal freneau- A Study in Literary Failure", and also contributed articles to the New Jersey Historical Society including Philip Freneau and Monmouth County for the July 1948 volume; Mary Austin's "Philip Freneau- The Poet of the Revolution"; the WPA writers "New Jersey- A Guide to its Present and Past, 1939; New Aberdeen or the Scotch Settlment of Monmouth County New Jersey, James Steen 1899; Matawan 1686 - 1936, Written and Illustrated by the Federal Writers Projects, 1939; Documents relating to the Colonial History of the State of New Jersey, V 21; Evert A Duyckinck and others.

Primary sources include images of the Freneau family bible, John Hammels notebook at the from the Monmouth County Historical Association Freneau Collection, deeds, newspapers especially the Red Bank Register, Matawan Journal and New York Times, and other historical documents.

Also special thanks to Stephen Gale, an Architectural Research Consultant, who shares a common interest in Freneau and his lands and is helping me research.